125mm red green 24v Traffic Light module
This is a new and exclusive product of our company. It can be used in driving school to simulate real traffic lights.This can be also used as your indoor or outdoor decorations and a small gift for your lovely children!
MODULES TO SUITS 125mm red green 24v Traffic Light Module FEATURES

Simple to replace and install in existing 125mm led Traffic lights module.
12-24VDC or 85-265VAC voltage rated.
Highly durable poly-carbonate housing, high-brightness led beads.
Double lens for even light distribution,waterproof material,good effect.
3 Year Replacement Warranty.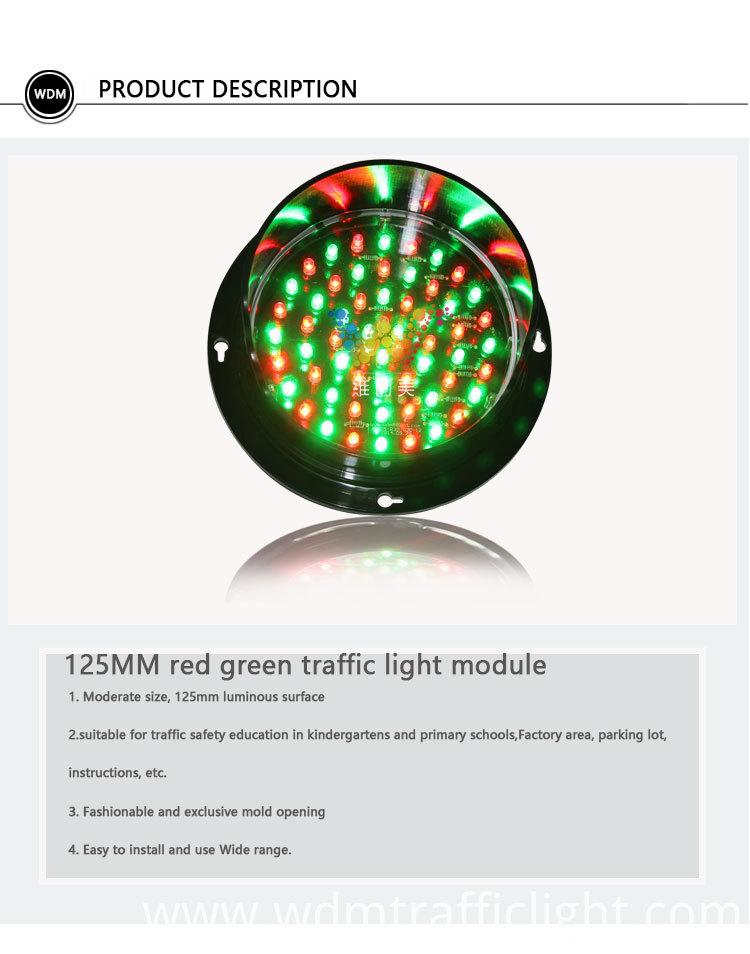 Parameter details of high brightness 125mm red green 24v traffic light module:
Product model: WDM-C125 is mainly used in schools, youth palaces, playgrounds, children's playgrounds
1. Product size: 165*165*70mm
2. Luminous diameter: 100MM
3. Lamp bead category: Taiwan Epistar chip lamp bead
4. Number of lamp beads: 30pcs each color
5. Lamp beads color: red yellow blue green white
6. Red wavelength: 620-625NM
7. Yellow wavelength: 590-595NM
8. Blue wavelength: 470-475NM
9. Green wavelength: 500-505NM (blue-green) 520-525NM (emerald green)
10. White brightness: 18900-22600MCD
11. Rated voltage: DC12V/24V
12. Protection grade: IP68
13. Rated power: ≤ 5W
14. Shell material: PC
15. Working temperature: -40℃~65℃
16. Service life: 100000H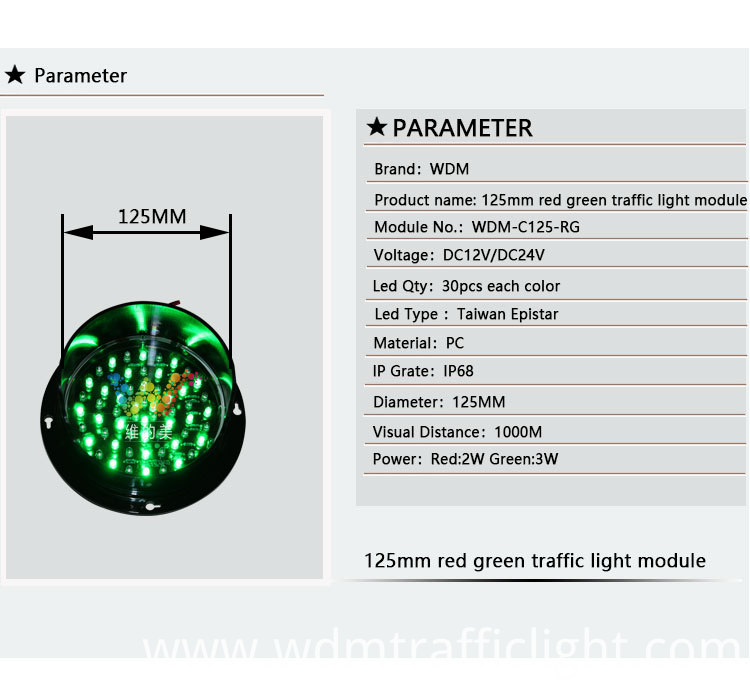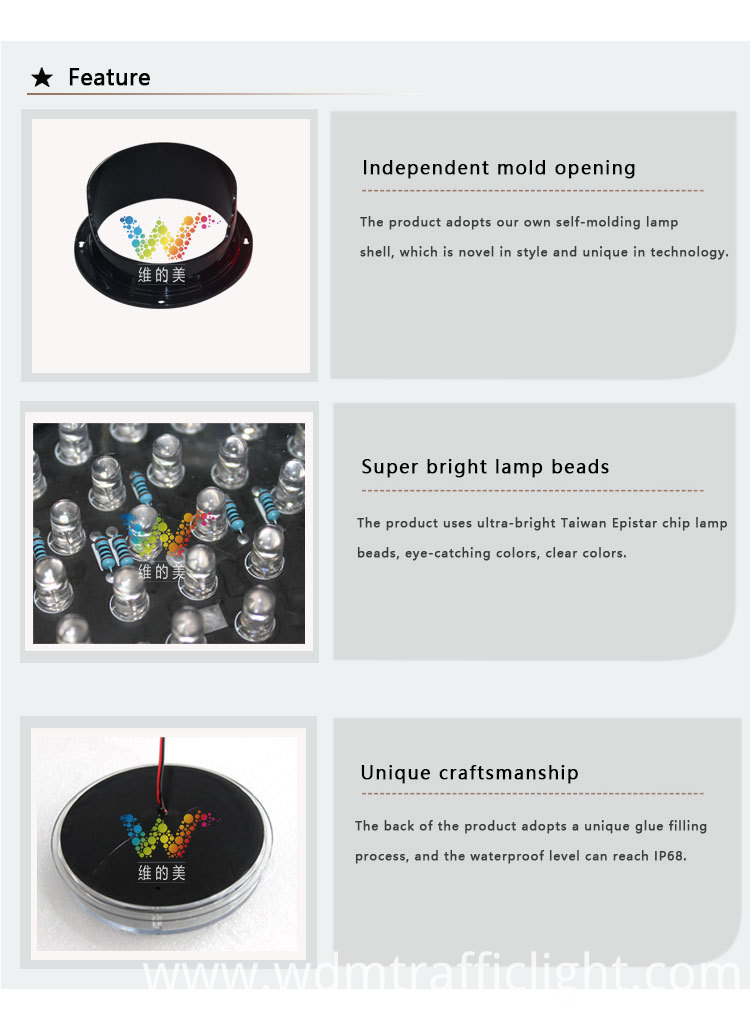 High temperature resistant material,can withstand high temperature exposure.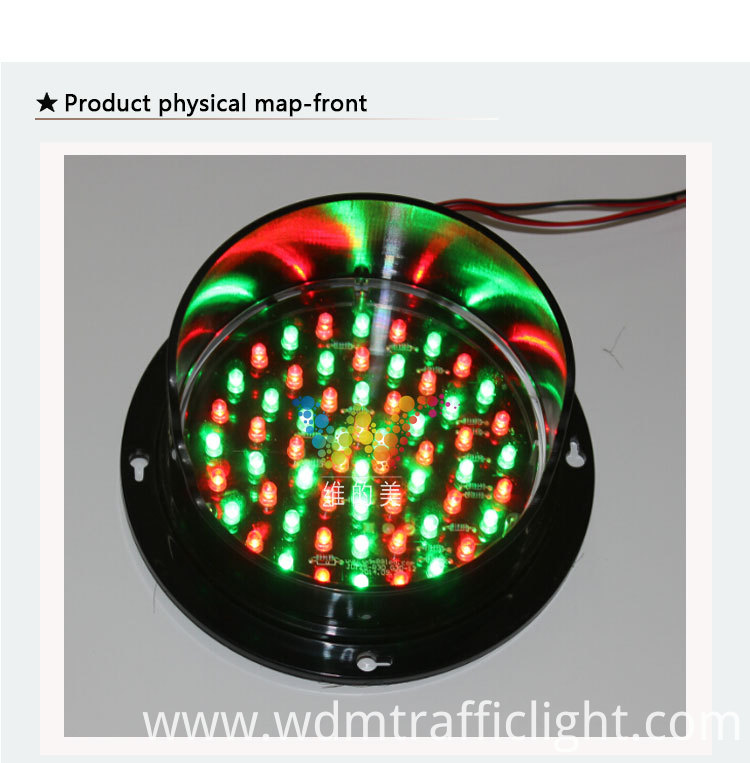 purpose of 125mm red green 24v traffic light module

Used for make of the traffic Arrow Board
Decoration for restaurants, hotels, clothing stores, villa areas, etc.
Aailiable at the warehouse entrance and so on.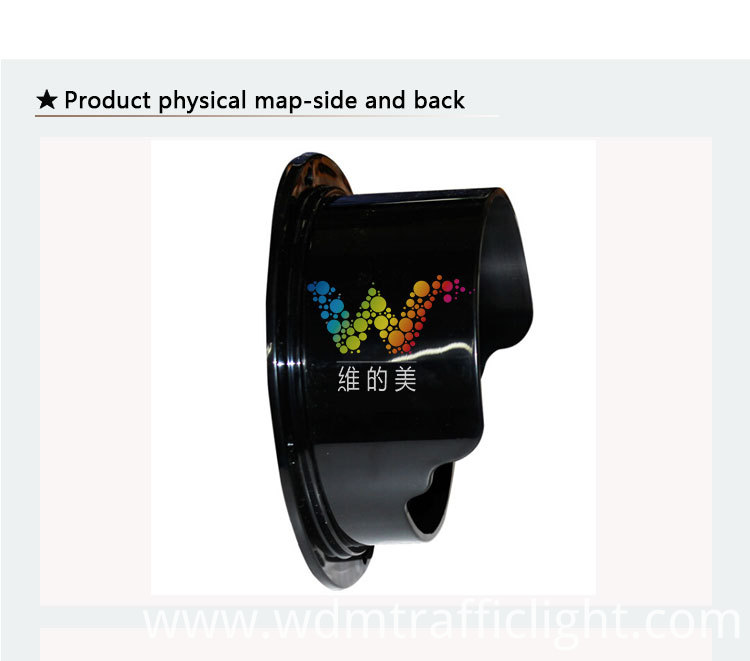 In addition to the 125mm red green 24v traffic light module ,Shenzhen Wide Way Optoelectronics Co., Ltd also produces other types of traffic lights.
1. 125mm pedestrian traffic lights
2. 125Mm Traffic Light
3. 125mm Solar Traffic Light
4. traffic Led Arrow Board, etc.